Office Staff



Sharri Trilling, D.M.D.

Dr. Trilling performs all examinations, treatments, and procedures offered in the office.

She earned her D.M.D. from Tufts University School of Dental Medicine in 1990, and she received a Bachelor of Arts degree in biology from Clark University in 1986.

Dr. Trilling enjoys staying current in new treatment options and dental technologies, and actively participates in the dental Continuing Education program.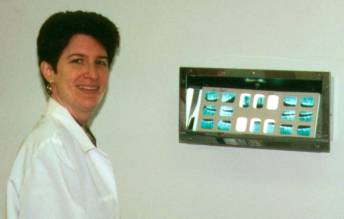 Dr. Trilling examining some X-Rays




Lorraine Scolponeti, R.D.A.

Lorraine is a Registed Dental Assistant, and supports Dr. Trilling during treatment and procedures. She also performs the office support work. In addition, Lorraine is the receptionist for the office, and will greet you whether you visit in person, or call on the phone.


Specialists

Dr. Trilling calls on a small group of superb local specialists when referring patients for outside procedures.
Fugazzotto, Rost and Brodsky - Periodontists
Dr. Lightfoot - Periodontist
Dr. Silberman - Periodontist
Dr. Starling & Dr. Carew - Endodontists
Endodontic Center - Endodontists
Dr. Catrambone - Oral Surgeon
Oral Surgery South - Oral Surgeons
Arch Orthodontics - Orthodontists